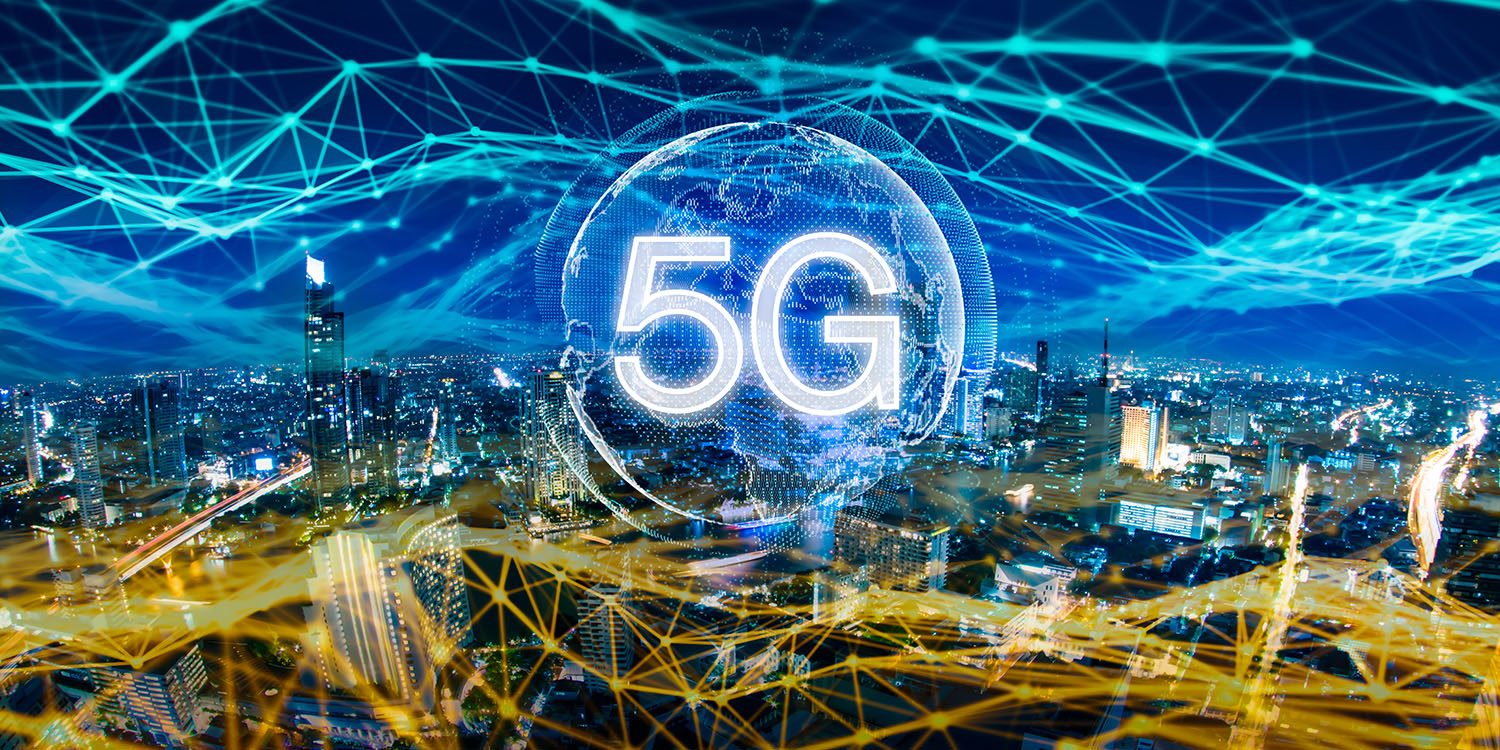 Full deployment of the 5G mobile broadband technology has commenced around the world, despite the uproar about its radiation dangers. It took about a decade in coming, but it is here with us now.
The Forecast
The rollout began a few years back in some cities of the world. And it has been predicted to constitute no less than 20% of global connections by 2025.
5G will provide much lower latency and faster speeds. Therefore, it offers a delightsome experience for live streaming, games, and data-dependent businesses.
With 5G comes exponentially faster download and upload speeds. So, many new businesses and services will thrive on its much faster speeds compared to current 4G capabilities.
Benefits of 5G
What are the Benefits of 5G to you?
With 5G comes faster speeds and lower latency. Latency is the time-lapse in data transmission between two points. So, your favorite apps and services will be a lot quicker, for instance.
Similarly, social media and mobile gaming apps will provide better user experiences than they currently do. E-commerce and E-business will equally experience new heights of profitability. New disruptive innovations will emerge in the online wireless space, meaning enhanced opportunities for individuals.
Heavy video files will download in a matter of seconds, as latency is as low as 1ms. This will be a relish for video freaks!
What are the other General Benefits of 5G?
The 5G technology will cause a revolution in businesses from manufacturing to services (tangible and intangible). Agriculture, e-commerce, infrastructure, healthcare, etc. will also benefit immensely.  The 5G technology could give rise to huge improvements in robotics and its use in production processes.
5G technology makes The Internet-of-Things (IoT) idea possible. And this will enable otherwise separate and independent equipment and devices to function more harmoniously and efficiently. The wireless intercommunication among them will make this possible.
5G holds the key to the next phase of car technology. Self-driving cars that communicate wirelessly with other cars, devices, and humans will greatly improve road safety and transit time. Thus the carnage on our roads and huge loss of productive hours in traffic will be greatly reduced.
Aside from all these, 5G has the potential to create a surge in innovations. Several new disruptive service offerings will come alive, either by existing businesses or start-ups alike.
The 5G Economy
In a study posted on qualcomm.com, and titled "The 5G Economy", it was found, and I quote, "that 5G's full economic effect will be realized across the globe by 2035, supporting a wide range of industries and potentially producing up to $12 trillion worth of goods and services."
It stated further that "the 5G value chain (OEMs, operators, content creators, app developers, and consumers) could alone generate up to $3.5 trillion in overall aggregate revenue by 2035 and support up to 22 million jobs, or more than one job for every person…"
The above makes it an exciting prospect to see what the full "5G effect" will be on the globe. Radiation dangers aside, that is.
Are There Any Downsides To 5G?
Yeah, there are snags.
Initial Costs
For a start, the deployment of 5G means high initial costs of upgrading from current devices to 5G compatible ones. Also, there's the likelihood of a rise in data charges but that is speculative for now, at best.
Privacy Breach
Privacy experts have expressed concerns that 5G could aid the unlawful tracking of people's movements. This may lead to a rights violation.
Radiation Dangers of 5G
Perhaps the biggest concern about the deployment of 5G has been its health implications. This has been the subject of serious ongoing worldwide contention.
As previously mentioned, there's been a plethora of concerns circulating online about the dangers of 5G radiation.
Arguments for 5G Technology
The proponents of the 5G revolution, and the agencies regulating them, have consistently maintained that the health concerns raised in some quarters against the 5G technology have no scientific basis. Despite this, the warnings, and criticism continue to flood the online space.
Arguments against 5G Technology
In an article titled "The Terrifying Potential of The 5G Network" and posted to newyorker.com, Sue Halpern wrote, and I quote: "Deploying millions of wireless relays so close to one another and, therefore, to our bodies has elicited its concerns."
She stated further… "Two years ago, a hundred and eighty scientists and doctors from thirty-six countries appealed to the European Union for a moratorium on 5G adoption until the effects of the expected increase in low-level radiation were studied."
Similarly, in response to a question on quora.com about the main criticisms of the 5G mobile network, Saro Velrajan had this to say: "Exposure to harmful radiations is one of the arguments against 5G mobile networks. However, so far, no study has clearly established a direct correlation between the radiations emitted by cell phone towers and the health impacts on humans."
"However", he continued… "In-pockets research confirmed that excessive exposure to radiation isn't good for human health. So, the farther you are from the antennas (cell phone towers, small cells, and mobile devices), the better it is…"
He said further… "Unfortunately, 5G's reliance on millimeter-wave requires the small cell towers to be deployed closer to the users…"
According to a post on globalresearch.ca titled "5G Critics Censored by Big Tech" a certain Noah Davidson, an activist in Sacramento, observed that his young nieces began experiencing health problems after a certain wireless carrier installed a small cell just 45 feet from their home.
He said other members of the community also manifested adverse effects after small cells were installed.
5G Radiation and COVID-19
COVID-19 outbreak in China, and its worldwide spread, has heightened the furor about the health implications of the 5G technology.
The internet is awash with claims and counter-claims by experts and conspiracy theorists on the relationship between 5G and COVID-19.
There are three distinct schools of thought:
The Two-Factor Theorists
This group claims that the deaths recorded around the world are due to two concurrent causes. The causes are COVID-19 and exposure to radiation from 5G terminals.
It posits that COVID-19 is a man-made virus released to cause mass deaths. The aim is to cover up the deaths due to exposure to radiation emissions from 5G installations. So, all deaths are falsely classified as COVID-19 deaths.
The Conspiracy Theorists
This school of thought claims that COVID-19 is a hoax; the actual mass killer is the radiation from 5G masts installed at close ranges in the cities. It believes the world authorities have deceitfully named it COVID-19, in a grand conspiracy with business establishments.
The activities of the above two groups thrived mostly on social media, where they pushed their narratives unhindered.
The Establishment
This third group consists of tech experts and established institutions in science and technology. It consistently debunked the claims of the first two groups. It insists their claims have no basis in science and therefore lack merit.
This group employs both the mainstream and social media to douse the growing worldwide tension. Already, angry mobs have attacked 5G installations in some cities around the world.
Response to The Dilemma of 5G Radiation Dangers
The Fact
For a start, 5G is here to stay regardless of the arguments and theories against it.
Just before you crucify me, I'll explain why I believe so:
The benefits and economic boom the 5G revolution portends are irresistible to world leaders and organized business interests.
Reversal of the rollout will result in colossal loss of huge investments already made in the 5G technology infrastructure.
Above all, tech experts and authorities in science have given full support to 5G. They remain resolute in their position that 5G poses no significant health threats to humans.
Policymakers would rather rely on science (with empirical facts) than insinuations to take policy decisions.  This has been the case with the Federal Communications Commission(FCC) in the US, whose current applicable cellular limits are based on the recommendations of the Institute of Electrical and Electronics Engineers (IEEE).
Hence, my conclusion is that 5G is here to stay.
Safety Measures to Consider
Your concern, and mine, should be how to stay safe in the 5G era (and beyond) whether hazardous or not.
I believe the primary responsibility for safety lies with the individual; the government only creates an enabling environment for the same.
So, while the debate rages on and till all doubts are reasonably clear, you should seek safety havens.
Radiation Protection Devices
The agitation against the dangers of harmful radiation from tech devices did not start with 5G. There have been contentions and arguments back and forth from the deployment of previous Generations.
There are claims that radiation from the current 4G (4th Generation) is likely a cancer-causing agent.
According to the International Journal of Health Sciences, the International Agency for Research on Cancer (IARC) "classified mobile phone radiation possibly carcinogenic…" This means that there could be some risk of cancer arising from phone radiation.
In response to this, various radiation protection products and techniques are on offer. They either provide outright blocking of Electro-Magnetic Fields (EMF) or reduce the harmful effect to the barest minimum.
Perhaps the most effective of these is the radiation protection devices manufactured by Waveguard GmbH, a German company.
Waveguard's products have been subjected to various tests/studies by world-renown Bion Institute and TUV SUD, among others, and have been certified to be effective in protecting from harmful radiation.
Africa Access to Radiation Protection Devices
Waveguard GmbH recently appointed Checed Science Ltd as its sole distributor in Africa (except South Africa and Morocco).  Checed Science is a Lagos-based Health Device and Clean Energy Company.
Checed Science offers Waveguard's range of radiation protection devices for the Sub-Saharan African market at competitive rates. International shipping costs are free, but local delivery may attract a fee depending on the logistics involved.
Checed Science also provides convenient product acquisition schemes that cater to the unique African experience and needs.
There are options for your personal, home, and office protection on the Checed Science products page.
For updates on emerging developments on the subject of electromagnetic radiation, keep a tab on our Blog.
If you have any questions about radiation protection, please contact us!
Please leave comments below: